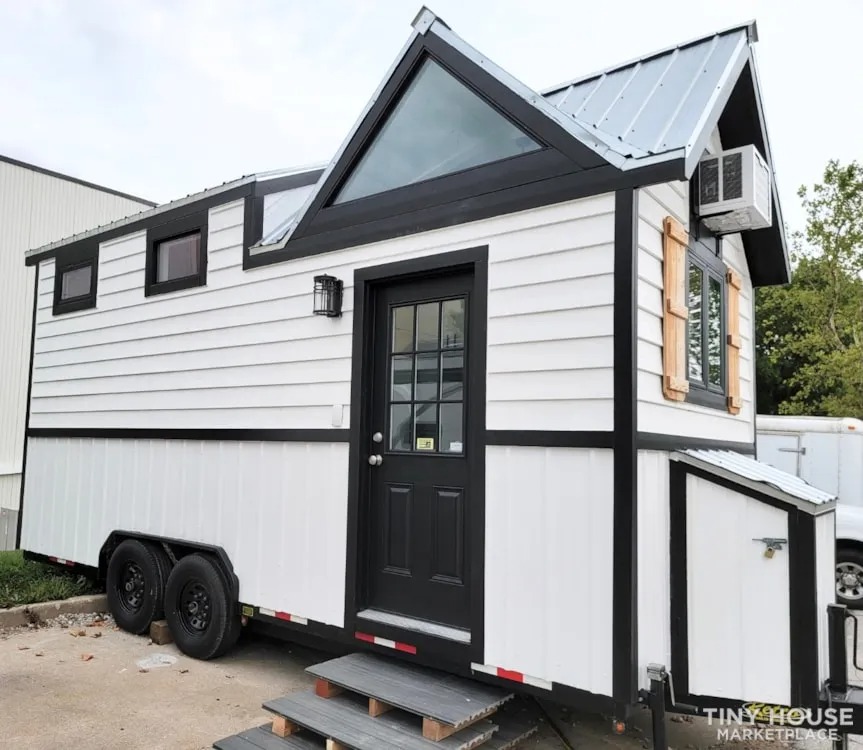 ---
This Kansas based tiny home measures at 20′. Which is the perfect size to take your little home wherever you want to go. With even enough room for Todo you may be saying "I'm not in Kansas anymore."
---
As soon as you walk into this home you find an adorable kitchen fitted with an oven, stove and a full size fridge. The white paneling through the home gives a classic farmhouse feel. Dark wood floors add to it's rustic charm while the black accents add a touch of modernization. As you continue down the hallway you have a seating area with lots of storage under the steps.
This home has exactly what you need for all your basic needs. There is a full sized loft for you and Todo with a fitted barn doory. Furthermore, the bathroom includes a full sized shower and plenty of moving space. Partway to the bathroom you also find a microwave and a washing machine. This combined with full sized appliances shows the designer of this house focused on functionality.
"If we are growing, we're always going to be out of our comfort zone"

John Maxwell
There is no nonsense when it comes to this tiny home but I'm sure you'll find that it's all you really need. We all need a home, a place to sleep, a place to eat and relax. However, what really matter is how we spend our time and who we spend it with. We may find ourselves in uncomfortable and new situations but remember it is temporary. As we grow as people we find that some circumstances feel strange at first but we can overcome them and feel comfortable again. So make sure you find some friends along the way; maybe even a tin man, a lion or a scarecrow.