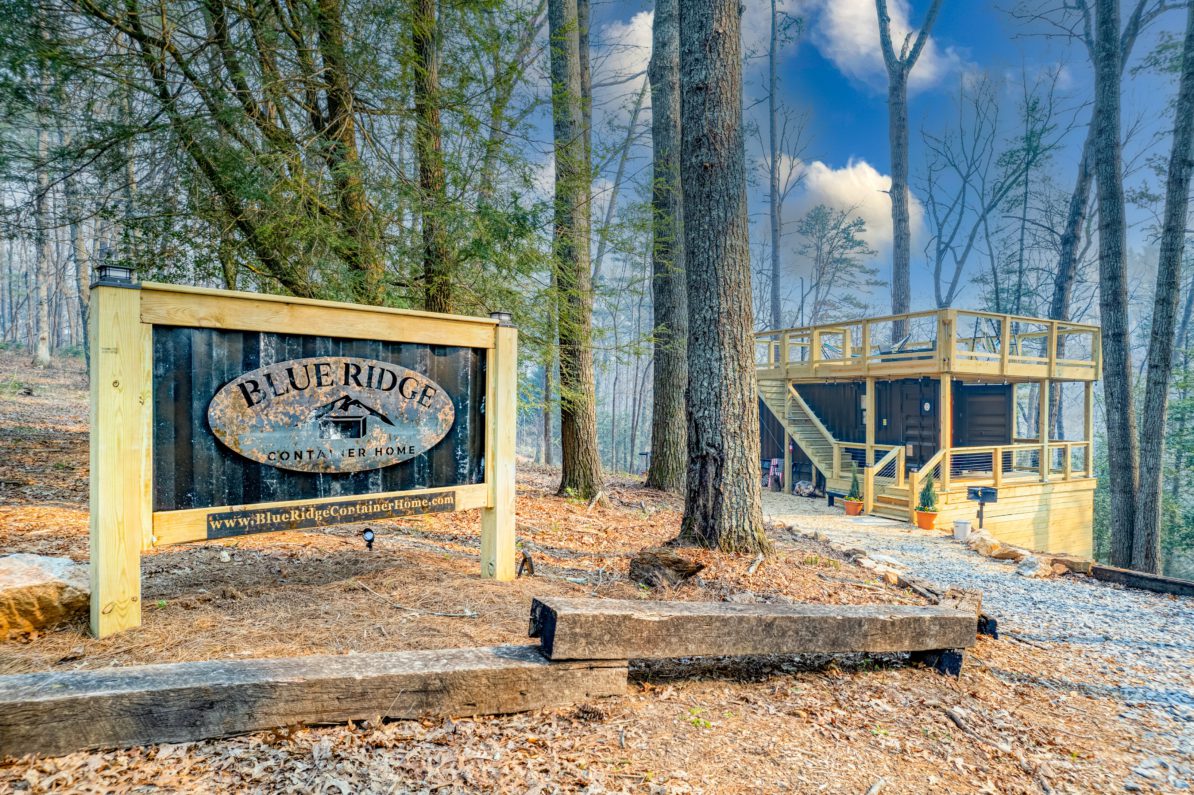 As the tiny house movement has built more momentum, we've seen them popping up everywhere. Lately one of the most exciting collaborations has been between the tiny house and the short-term rental market. We all love a good Airbnb or VRBO but now we have the option of living out our tiny house dream even if it's just for a weekend. This new series of Envy will feature these tiny house/vacation rental love children.
We hope you like it!
Maura & Steve are the proud owners of The Blue Ridge Container Home in BLUE RIDGE GA
I asked what the inspiration was to become a vacation rental host and why they went with a container home.
"We initially owned a long-term rental property but desired to find something that could bring us enjoyment while also benefiting others in an area we enjoy exploring and spending time. These properties are incredibly efficient and minimal maintenance, making them a joy to own. Notably, these properties are situated in locations we personally love to visit like Blue Ridge. We fell in love with their unique designs and aesthetics making them a truly one-of-a-kind property and investment."
How was the buying process different from that of a traditional home?
"The appraisal process presented a unique challenge since there were no comparable properties in the area. However, we were fortunate to have an excellent team in place, guiding us through the process and ensuring a successful outcome. A fun fact, our container home in Blue Ridge, Georgia was the first container home contract to be closed under traditional investment financing in the USA!"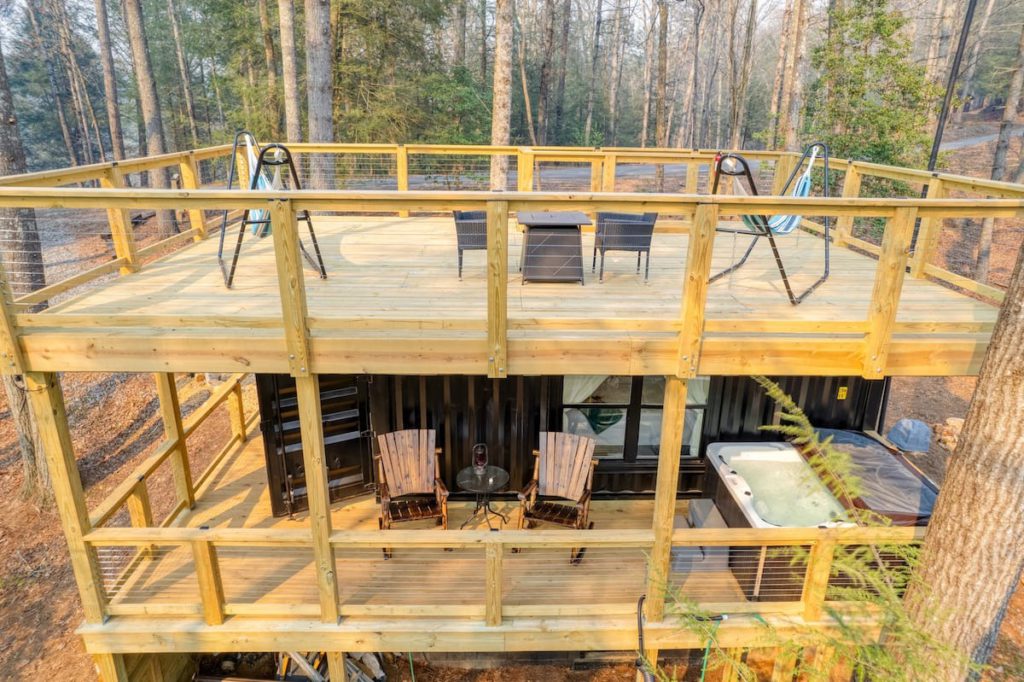 What steps did you take to transform your container home into a comfortable and welcoming space for guests?
"Our container home was sold fully furnished! It came with everything needed to run a successful short-term rental. We understood that a tiny home has very small living quarters, because of this we offer a rooftop deck with plenty of seating including hammocks, and Adirondack chairs, we provide a fun outdoor atmosphere by offering various games like cornhole, frisbee golf, and hook and ring, along with premium outdoor amenities, such as a fire pit, BBQ grill, and hot tub, all meant to create memorable moments for our guests. Inside the home, we focused on making the space as warm and welcoming as possible. To enhance comfort, we invested in a charming rustic platform bed and upgraded the bedding and linens, ensuring our guests enjoy a restful night's sleep. Understanding the limitations of our kitchenette area, we switched to premium durable plastic drinkware to prevent breakage incidents on the limited counter space. To add coziness to the interior, we incorporated a rug, transforming the living space into a comfortable retreat. Recognizing the need for storage in a tiny home, we installed a small coat rack with ample storage for suitcases, outerwear, and shoes. Additionally, given the concern about insulation during rainy seasons in Georgia, we took proactive measures by investing in a mini dehumidifier to maintain a dry and comfortable space for our guests."
What kind of amenities and services do you offer to ensure a memorable experience for your guests?
"Our outdoor spaces have become a huge hit with our guests, which is especially significant since many visitors to Blue Ridge seek to relish the outdoors and embrace the fresh air. We take pride in offering a delightful array of amenities to enhance their experience. On the covered lower deck, guests can unwind in the hot tub, while the upper deck provides a perfect spot for relaxation with hammocks and Adirondak chairs. The outdoor area is further complemented by a propane fire table, wood fire pit, and a convenient grill for outdoor cooking enthusiasts.
For those looking to indulge in some fun and games, we provide frisbee golf and cornhole to keep everyone entertained. Despite being surrounded by nature, we understand the importance of staying connected, so we ensure a strong Wi-Fi signal, along with a Roku TV for entertainment options. Additionally, guests can enjoy their favorite tunes with the help of our Braven portable speaker, making their stay even more enjoyable and memorable."
What advice would you give to someone considering purchasing a container home and becoming a host?
"Be your own guest! And listen to your guest feedback. Ask yourself before making any major changes or purchases – is it reasonable for a tiny home?"
If you stay in Blue Ridge Container Home, the couple suggests that you check out some of the local attractions.
"It's hard to narrow it down to just three with all the outdoor activities (hiking, fishing, tubing and boating), shopping, and eating possibilities. With that said, our container home is conveniently located to Bear Claw Winery (5min), Mercier Orchards (5min) and Downtown Blue Ridge (10mins). I recommend checking for festivals going on during your stay as well. Next on our personal list are hikes to a hanging bridge and chimpanzee sanctuary."