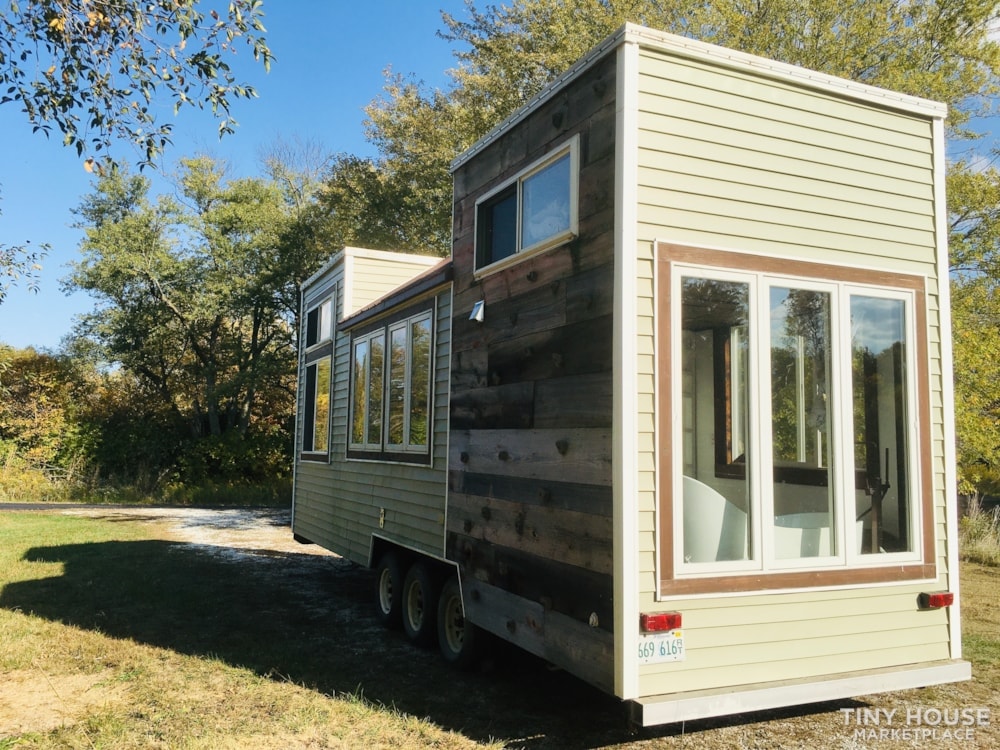 Make A Special Trip To The Hillside Hideaway!
---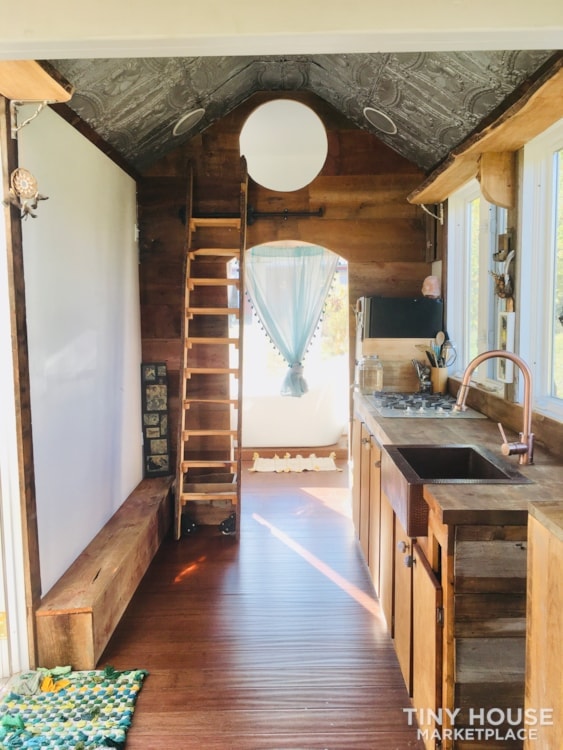 This home is an absolute gem. Immediately it stands different than other tiny homes we have seen. While the exterior has a standard tiny home look, the inside is is a designer's dream. The features that make this home so unique is easy to see. What is not as obvious is the use of all recycled material when building this home. Which includes reclaimed barn and live edge wood. Making this the perfect home for someone that is ecologically conscious. Not to mention, this home functions completely off grid. Never lived in or rented means the Hillside Hideaway and is brand new and ready to move!
"It's easier to go down a hill than up it but the view is much better at the top."

–Henry Ward Beecher
Moving on, I have to dive deeper into the stylistic elements. Choices like the mosaic window wall revolutionize the space. Natural light was definitely a big factor in the building of this home. Things like the ladder may seem insignificant however, using a sliding library ladder is more decorative. Getting key pieces of furniture can elevate the space without much effort. Another subtly I enjoy is using curtains in a doorway to separate space. It keeps the space open and allows the home to feel larger. Additionally, showing off the gorgeous Japanese soaking tub with waterfall shower.
Inside The Hill
---
There is so much more to explore in this home. First of, it is legally licensed as an RV which is not often done. Some of the necessities include a grey water holding tanks, compostable toilet, on demand hot water heater and vented propane heat. They also added washer/dryer hookups, a toaster oven, a stovetop, a mini fridge, any more. Then there are the fancy add ons like lighting dimmers, projector screen, and a built in bookshelf. Once you add the couch and desk to the mix, you have all you could need or want.