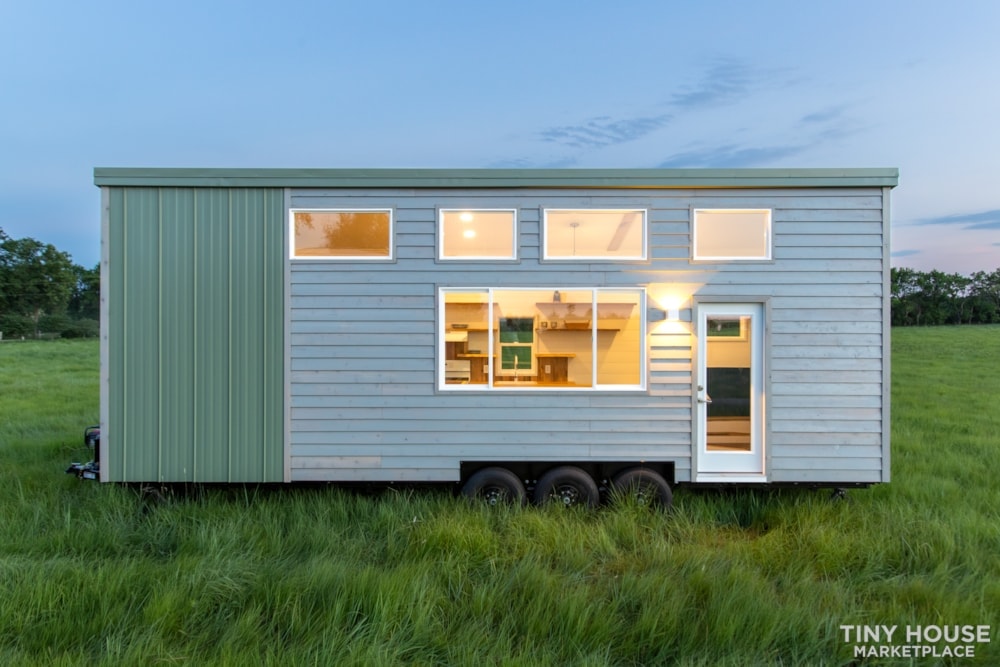 This Gorgeous Fern Will Provide All The Comfort You Need!
---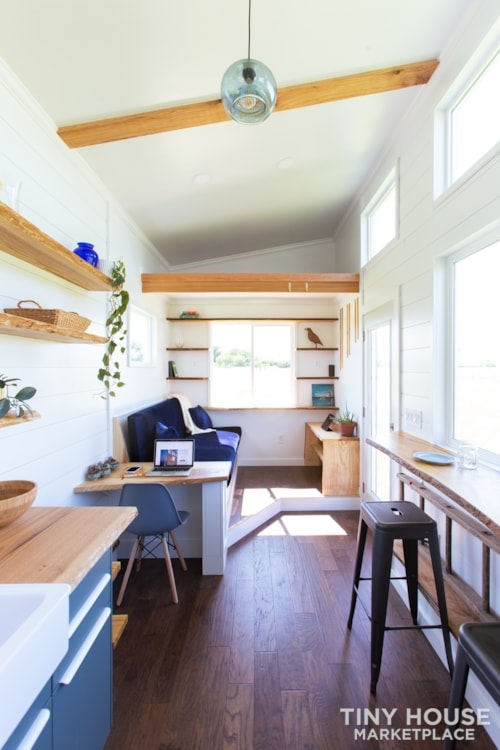 As soon as, this beauty popped up on our Marketplace and I had to share it. From head to toe this home is modern and simple in design. White paneling and weatherproof vinyl plank, hickory tongue-and-groove wood floors. Furthermore, keeping up with the theme of the name: Fern, vegetation is sprinkled throughout the home. Moving on, the living room includes a spacious 320 sq feet. Enough room for a custom made blue velvet couch featuring ash accents and underneath storage. Overhead dimmable LED lights and a full wall osage bookcase gives this room the ultimate feeling of comfort.
"Only spread a fern-frond over a man's head and worldly cares are cast out, and freedom and beauty and peace come in."

-John Muir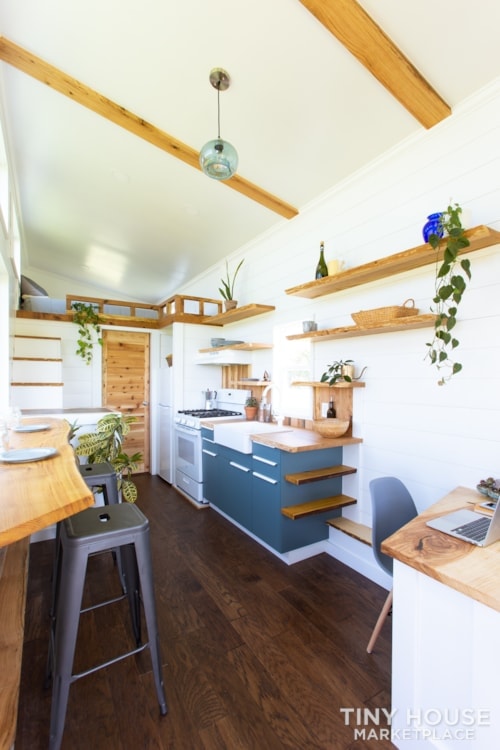 Additionally, the kitchen in the Fern is just as beautiful. I adore the blue cabinets that pop against the white background. Thick oak counter tops cover the cabinets to match an osage bar behind. The kitchen also includes a 30″ full size gas range oven with a matching vent-less hood fan. Be surprised to find that the bathroom matches the kitchen theme. The same adorable blue cabinets with oak counter tops. Instead of a farmhouse kitchen sink, the bathroom has a white vessel sink. Combine that with luxury vinyl tile for the full effect.
In The Brush
---
With tiny homes, there is also so much more than meets the eye. Things that ultimately important like the mini split AC and heating unit. Or, the propane and sewage lines running underneath the trailer. The tankless water heater seamlessly hidden in the bathroom cabinet for easy access. Additionally, the bathroom has a combo washer dryer hookup under the counter. Add on some beveled cedar siding and you have an all round amazing home. Then you can add all the stylistic choices: ash accents, overhead lighting, matching oak throughout the home. Overall, all of this and more results in a home that can be comfortably lived in.