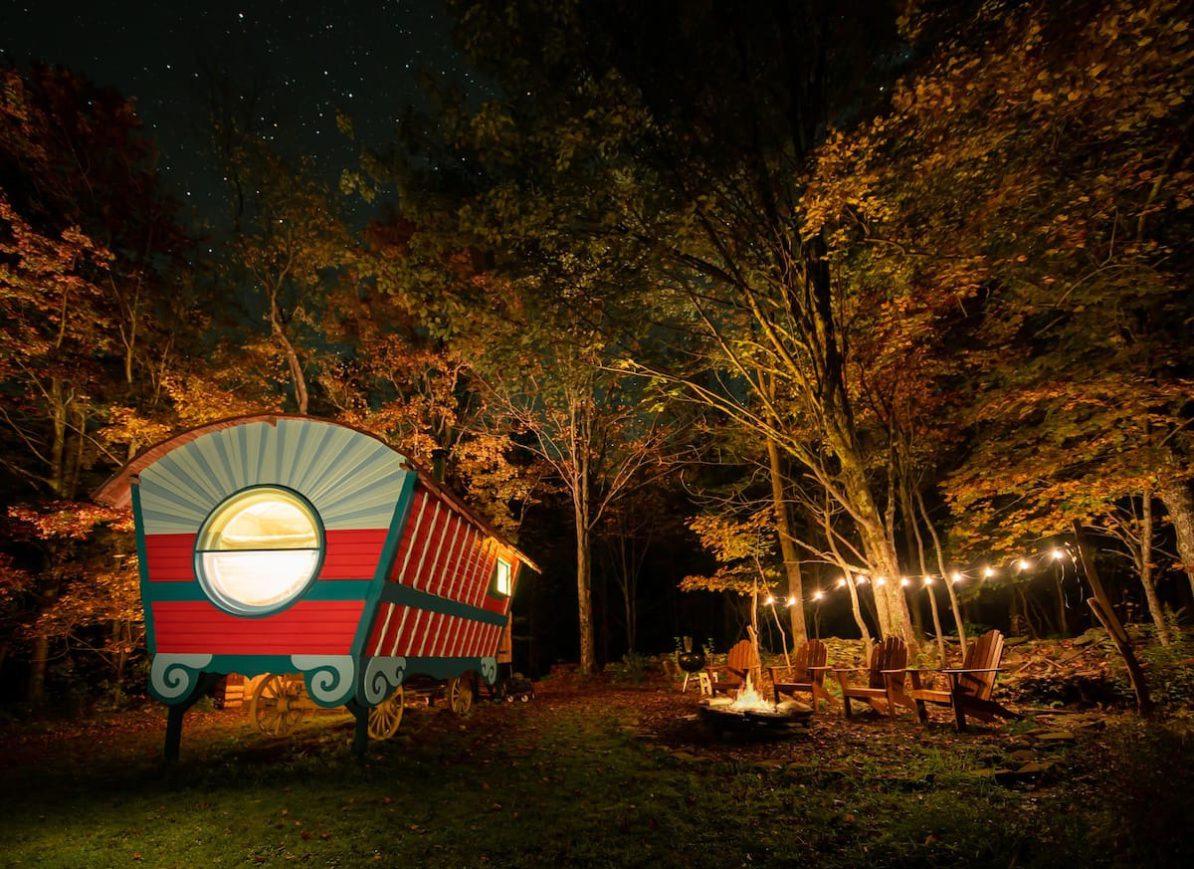 The opportunity to stay in a tiny caravan surrounded by nature, taking outdoor showers and hanging out in the sauna…..yes please! If this sounds good to you as well you may want to book a stay in this tiny house rental.
As the tiny house movement has built more momentum, we've seen them popping up everywhere. Lately one of the most exciting collaborations has been between the tiny house and the short-term rental market. We all love a good Airbnb or VRBO but now we have the option of living out our tiny house dream even if it's just for a weekend. This new series of Envy will feature these tiny house/vacation rental love children. We hope you like it!
Glamping in New York at Bellfire's Cosmic Nomad
What do Richard and Mina want you to know about their rental home?
We have been hosting travelers at Bellfire in the Catskills since two thousand fifteen and are passionate about creating unique glamping and off-grid experiences for adventurers. We've had the pleasure of connecting with travelers from all over the continental US and abroad, that seek us out for our creative and unique accommodations and the social living experience that allows them to reconnect with the great outdoors in a sustainable and green way. Follow our story @bellfirefarm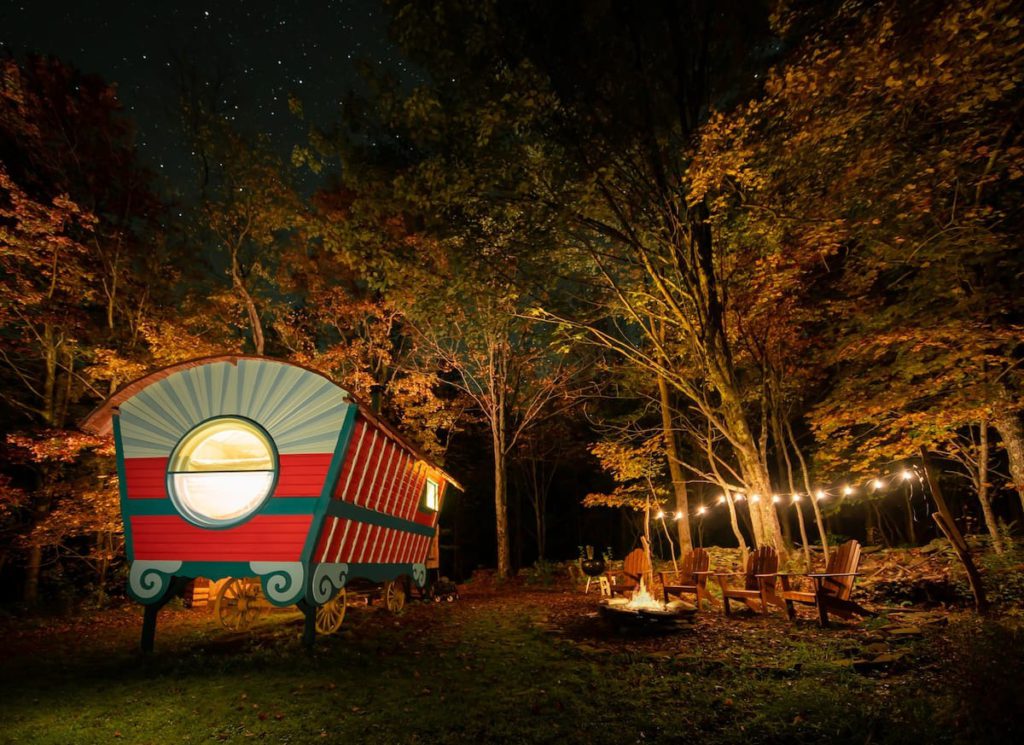 What are the accommodations like?
This cabin features a large custom-made round window for spectacular stargazing, and daydreaming, while you relax, disconnect and enjoy the sprawling, lush landscape and mountain views. The dwelling is equipped with a kitchenette, dining space, and sleeping quarters that accommodate anywhere between 1 to 4 guests in two queen size beds. Ample personal outdoor space with a fire pit, Adirondack chairs and grill, access to the stream, forest, yoga deck, outdoor shower, and private composting toilet.
What do others have to say about their experience?
"Our stay at the cosmic nomad was something out of a fairy tail. It felt great to disconnect, unplug, and unwind. This space taught us how beautiful life is when it's simple. No wifi & no electricity. We had slow mornings sipping on tea and admiring the sunrise over the majestic mountain views of the Catskills and spent the nights together around the fire, stargazing up at truly a masterpiece. The sky put on a show with countless shooting stars and we were blown away by being able to see the Milky Way galaxy. It was truly a magical , enchanted experience and memories to last a life time" Melanie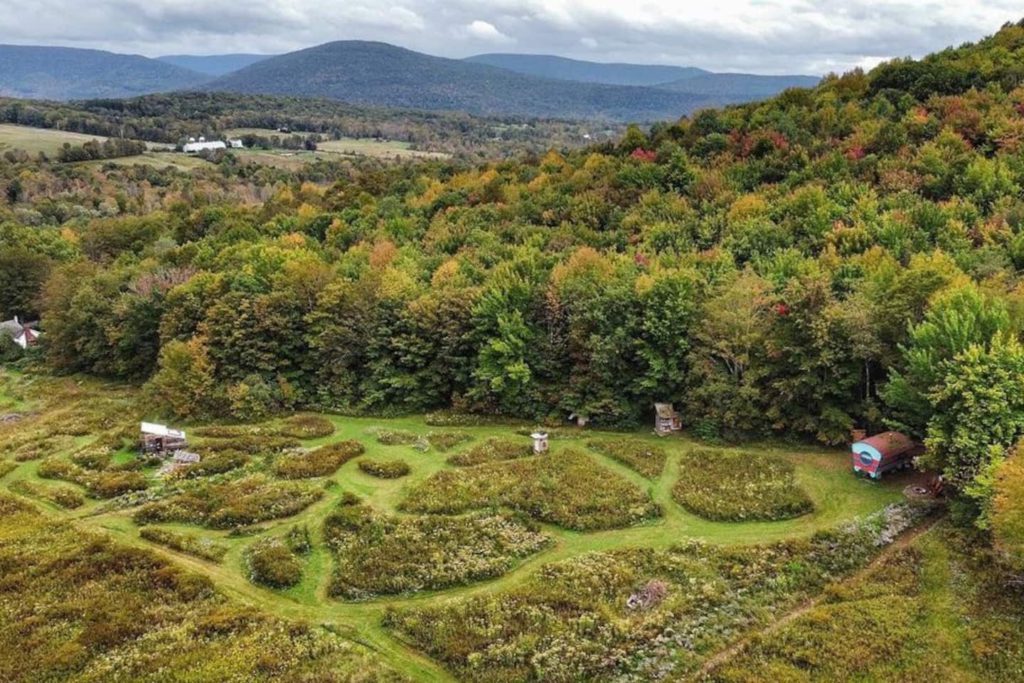 If you stay in the Cosmic Nomad be sure to check out some of the local attractions.