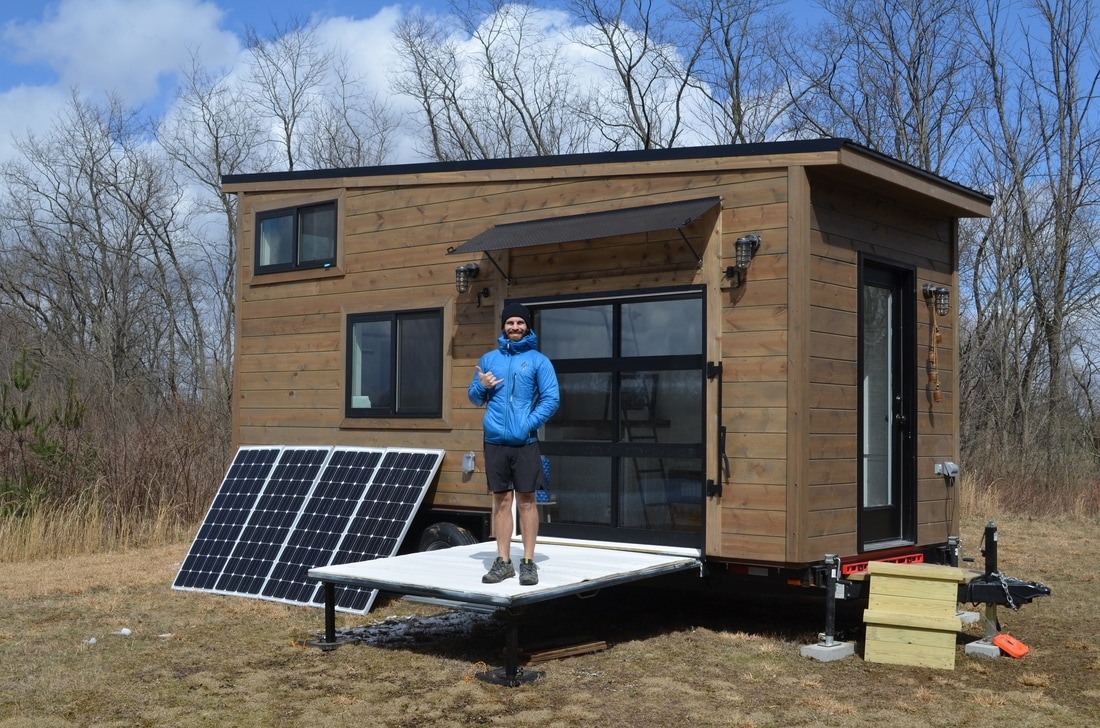 Welcome Back!
As you can see the man in the blue windbreaker is very proud of this tiny home and when you look through it's easy to see why. The Latibule has everything you need in order to go wherever you need it: solar panels, composting toilet and a propane heat source. It's hard to believe that this home is only 20'! The best part is that this tiny home has a way of making you feel at home. It has a modern and somewhat rustic touch: white paneling combined with dark wood features and black metal accents.
It's many windows and glass door give a relaxing touch of fresh sunlight. It also has a cozy second level loft that looks so inviting you may want to jump in. However, we ask to resist jumping in your tiny home. It also has a seating area right next to a window that you can open to enjoy your coffee with the morning breeze. The seating area also gives storage as well as a nightstand in the loft for your minimalistic needs. One of my favorite design choices of the Latibule is the lighting; it gives enough light without being bulky or in the way. With an outside that matches its inside this tiny home has a resounding presence. The stylistic choices are what really make this tiny home pop! But do not be afraid to truly make it your own.
This tiny home has the potential to be a temporary stay, a forever home or even to use as an Airbnb. Many people are now finding that using tiny homes as a vacation stays as preferable. This is mostly likely that most people on vacation are using their stay for a sleep and shower. This tiny home can provide both to possible customers. In this way the Latibule can be considered as an investment or as a homestead. Unless you are on an adventure of creating a tiny home or just working to simplify your life. In which case, you may use this beautiful home as inspiration.
---
If you find the hardest part of committing to a tiny home is possessions then you'll find we have excellent resources to help you. However, I've found that simplifying your life starts with simplifying your mental load. Take this moment to think about what occupies your mind the most and how much stress it causes you. Then take a moment to release the thoughts of those things you have no control over. We cannot control every aspect of our life, but we do have the power to take control of how we handle those moments. As humans we are strong and resilient. I believe you will find moving into a tiny home to not be as overwhelming as you may have thought. You may even find yourself adjusting to it quicker than expected or finding yourself content with the simplicity the home brings.
Furthermore, if you've made the decision to dive into the world of tiny homes, you may be thinking of making your own. The Latibule is an amazing inspiration piece as it is a great size for those starting their building journey. Attempting to both simplify your life and learn how to build can seem overwhelming. Thus, it is important to remember to take it one step at a time and focus on what you can control. It's important to remember that we did not instantly know how to walk but that it took time and help. Find support around you or reach out to us as to not get discouraged in the process or suffer imposture syndrome. Remember that our ancestors would build their own homes and much of our society is structured around building. Or as many people say,
The reason why I chose this tiny home was because it reminded me of what I love. One of my favorite places to visit is the mountains. The fresh air and soft breeze give a relaxing feeling the city doesn't provide me. I believe we as humans need to experience the outdoors on occasion in order to re-inspire the soul. However, as people we have different environments that we prefer, and they can change throughout your life.
After COVID many people sought out a new career path or lifestyle. Luckily for you, you have the power to decide you need a change without a pandemic. Stress can be anywhere, and some people might find it has increased over the past years. If you're looking to get away from the commotion in your life than you can take this little hideaway with you. Some people are looking or waiting for a sign to make a change. If you are, then I am here to tell you it's time.