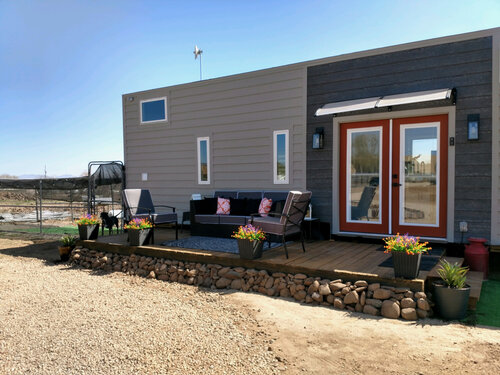 ---
Some of my favorite homes end up being the ones that surprise me. The Chateau has a normal appearance until you walk in to find a home worthy of royalty.
---
---
Not Too Showy On The Outside; The Inside Is Worthy Of The Name Chateau!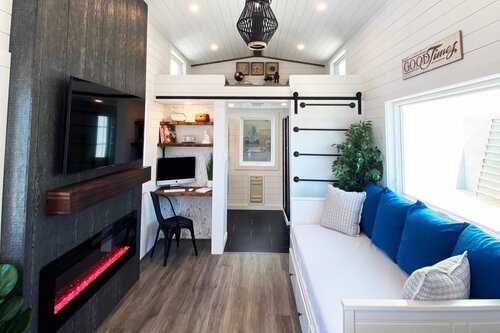 The Chateau is designed perfectly for a young family. A master on main and a loft featuring twin beds. I must admit, the symmetry with the twin beds is satisfying. Additionally, I love the living area of this home. I adore that they added a decorative mantle above the fireplace. Or the way they incorporated a work station that is somewhat inclusive to the family. Making this living area fit for everyone.
"Many a book is like a key to unknown chambers within the castle of one's own self."

-Franz Kafka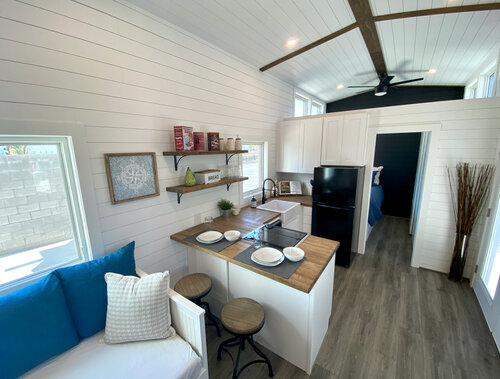 This is one of the more spacious kitchens I have seen in a tiny home. There is even room for a kitchen island if you wanted to add one. I love the block countertops and matching stools for dining. More so, I find it unique that the bedroom on the main floor is not completely closed off. Instead they chose to show off the elevated roof. This allows for the home to feel even larger and more like a castle.
My favorite of the whole home has to be the bathroom. I am particularly fond of the shower doors. However, the matching washer and dryer are a close second. I think this home would really shine with red accents to match the front doors and fireplace. The red combined with black and white would add another level of class to this castle. I find this to be another perfect home for those apprehensive about living tiny. Take this castle with you anywhere and live a life of luxury.